Walking Tours of Carlton
Carlton Historical Walk – self guided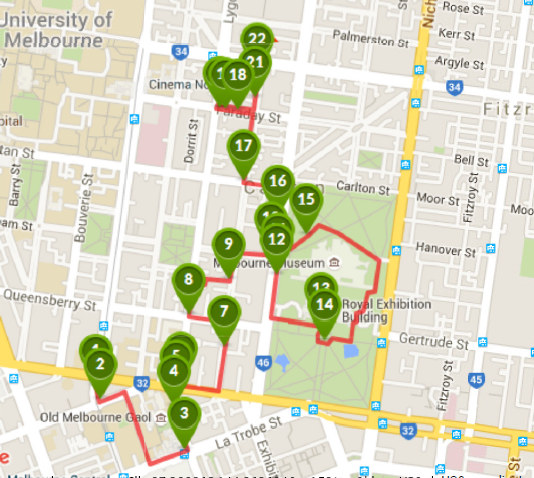 Although Lygon Street is renowned for its eateries, the area also boasts a treasure of culturally and historically important sites. Some of the more significant buildings and features are highlighted in this walk.
This walk can be done in parts, with breaks along various gelati shops, cafes and restaurants!
Download detailed information here
Royal Exhibition Building & Carlton Gardens – A printed guide is available from Museum Vic or MCC Information office at Federation Square
Walks through
Melbourne University
Melbourne General Cemetery
Residential Streets and Lanes of Carlton
All of which can be interesting and entertaining.
The City of Melbourne Information Centre at the Town Hall has a number of pamphlets detailing suggested walks, all within close proximity of Carlton. These varied walks cover the arcades and lanes, parks, gardens, waterfront sports & entertainment, Cathedrals etc.
Information is also available at visitor hubs and on line.